Published: August 19, 2023
With members in more than 90 countries, INFORMS truly represents a global and diverse community of OR/MS and analytics students, researchers, educators, practitioners and industry leaders. Members whose work is saving lives, saving money and solving complex problems, through ground-breaking research and transformative applications.
And if you are part of this community, you know just how significant opportunities to connect, collaborate and grow your professional network are for furthering this incredible work.
But for some, especially students or those just starting out in their career, or even experienced researchers who want to branch out into new areas, you might feel uncertain or even uncomfortable taking the first steps towards building professional relationships with new people. Luckily, events like the upcoming 2023 INFORMS Annual Meeting, which will bring together thousands of members of the INFORMS community from October 15-18 in Phoenix, AZ, provide myriad opportunities to meet potential collaborators and friends from around the world.
Now, if you listened to the most recent episode of the podcast, you'll already have heard me discuss this week's guest, a professor with Universidade Federal da Paraíba, Brazil, and host of my new favorite podcast, Subject to as well as author of the new OR/MS Today column of the same name, Anand Subramanian.
Anand and I will be discussing the importance of meeting and connecting with others in your field for idea exchange, collaboration, or even just sharing admiration for another's work, and how to best leverage both in-person and virtual networking opportunities in order to do so.
Going to conferences is a must when you think about networking right? You have this wonderful opportunity to meet a lot of people at once, they are gathered there all in the same venue to exchange ideas, experiences, the latest research findings. So it's a fantastic experience, it's common sense, people know that.
Interviewed this episode: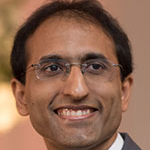 Anand Subramanian
Universidade Federal da Paraíba, Brazil
Anand Subramanian is a professor at the Universidade Federal da Paraíba in Brazil. He is the organizer and host of the "Subject to" (s.t.) podcast.
Related Episodes
Want to learn more? Check out the additional resources and links listed below for more information about what was discussed in the episode.