Published: February 18, 2023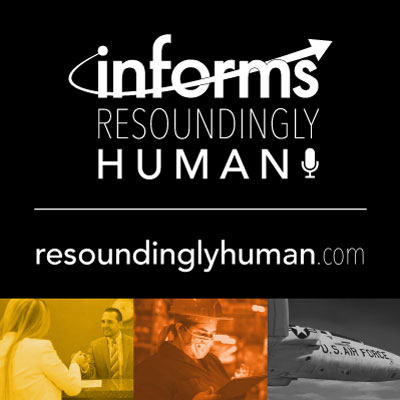 Filmed in-person during the 2022 INFORMS Annual Meeting in Indianapolis last fall, in this episode I am joined by Thiago Serra, professor of analytics and operations management at Bucknell University, and Carol DeZwarte, data science leader at Shopify. We explore a topic that most in the field of analytics/OR/MS have or will face during their career, and all the questions and uncertainty that come along with it. And that is, what direction do I want my career to take, more specifically, am I interested in pursuing a career in industry or in academia?
Carol and Thiago share their personal stories about their professional journeys. We discuss choices made, challenges faced, moments of uncertainty, and of course, celebrate their successes! And then at the end, Thiago and Carol answer some questions submitted by listeners.
I was in government for 15 years and it was really hard to switch industries but I wanted to because I wanted to keep learning and I didn't think I was done growing. It was scary to try and switch industries, even from government to private industry, I can't even imagine going from academia to government or private industry. It was absolutely worth it, and there were some large bumps in the road, like brick-walls-that-I-broke-my-nose-on level bumps, and it was still worth it. So it's that, we're going to hit bumps, and you don't have to stick with a decision.
Interviewed this episode: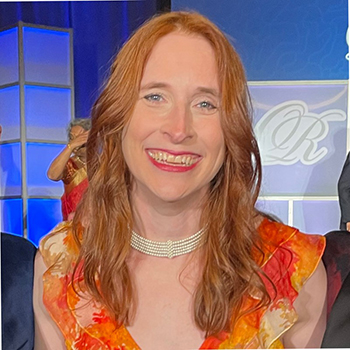 Carol DeZwarte
Shopify
I am a data science leader who excels at developing a trust-based culture where scientists thrive and improving effectiveness, efficiency, and sales through data. I have been delivering results for 20 years – from patenting an inventory method for the US military that saved over $400M to defining network strategy for a $10B online retailer.
I listen, ask enough questions to understand the challenge, and develop implementable strategy and solutions. I teach teams and customers to use data to make better decisions. My customers know I will produce results that meet their needs while not compromising integrity.
–My commercial clients and experience includes Shopify, Convoy, Wayfair, General Motors, Consolidated Stores Corporation, Stryker Instruments.
–My government clients include all branches of the Military, CAPE, DLA, DOT&E, JPDO, FAA, and NASA.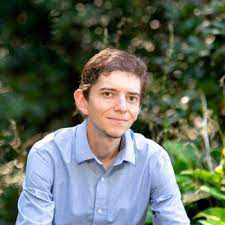 Thiago Serra
Bucknell University
I aim to make mathematical optimization ubiquitous and more effective. In particular, I investigate how can we use theory and methods from this area in deep learning; how can these methods be extended, improved, and better understood; and how can we also adapt and combine these methods to solve problems associated with new applications.
Related Episodes
Ashley Kilgore:
Before we jump into today's episode, which I have been so excited to share since it was recorded in person last October at the 2022 INFORMS annual meeting in Indianapolis, I have another podcast recommendation that I want to share with the listeners of Resoundingly Human. If you enjoyed our last episode featuring Walt DeGrange with CANA, LLC, in which we took a look at the evolution of football analytics in the countdown to the Super Bowl, then I have another podcast you have to check out.
The CANA Connection podcast is not only created by the same organization that brought us Walt, but their most recent episode to take a fascinating deep dive into eSports. This includes women in gaming, the future of eSports in education, and as a career path, youth eSports, franchising, business and law, and more. You'll definitely want to head straight to the CANA Connection podcast, and if you haven't yet, be sure to check out the Resoundingly Human interview with Walt. Check out the show notes of this episode for links and additional information. And now, back to this week's interview.
So we're here today at the 2022 INFORMS annual meeting in Indianapolis, in person, finally fully in person. We're doing actually our first live podcast, Resoundingly Human podcast. I'm joined by two of my favorite members. We're going to be tackling a question today that I think a lot of our attendees are either getting ready to address, or are in the middle of addressing. And that question is, what direction is my career going to go? Am I going to take an academic path? Am I going to take a practitioner path?
So I'm joined by Carol DeZwarte, with Shopify, and Thiago Serra, Professor of Analytics and Operations Management at Bucknell University. We're going to talk about their personal experiences, the directions their careers have taken, maybe some bumps along the way, some personal successes, and the joys of their current positions. And then we're going to answer some questions that attendees have submitted online. So Carol, Thiago, thank you so much for joining me.
Carol DeZwarte:
Yeah, excited to be here.
Thiago Serra:
Absolutely.
Ashley Kilgore:
So I'd love to start by having you talk a little bit about your current roles, and what you enjoy about it. Basically, what makes you excited to go to work each day? What do you love about the direction your careers have taken? Carol, let's start with you.
Carol DeZwarte:
Yeah, no problem. So I'm a data science manager at Shopify, and the thing that I love the most is the problem solving. Even though Shopify is a pure virtual company, we find ways to do this. I'm at home, when I am in front of a whiteboard with a group of people and a single marker, and then an idea gets thrown out. And then somebody else comes, and scratches off part of that idea, and replaces it. And two hours later you've solved a really hard problem. And we can still do that virtually, but that's what I love about data science application, is that it doesn't have to be perfect science, it doesn't have to be perfect theory. It has to be good enough, and then you move on.
And then I love doing that with really smart people who challenge me all the time, and this idea that I'm sure we both have, of wanting to build a team by hiring people who are smarter than yourself, so that you're always learning. But that's, I think, the most fun part. Is solving problems for our customers.
Ashley Kilgore:
Thiago, how about you?
Thiago Serra:
I have to say the feeling that Carol has about solving problems is something I love, too. When you're in academia, you can definitely think about it as less structured problems, maybe something that could definitely help in 20 years from now. If you do a little push, do a little push, I like that a lot. But the one thing that I also like is that maybe, it's possible that all they're going to be doing as research might not be used in the future, but the students, they last. The things that you do in the classroom, in between the research, the experiences that you, translation to students and how you prepare them to be professionals. That's something that, "Okay, if all my scholarship doesn't go anywhere, because it's not so close, it doesn't have a direct impact," which is something that definitely, have more in the industry. My impact are those students and the things that they're going to do, which might be much greater than what I ever did. So my personal feeling of what I find interesting about all of this, is the impact that you have on more people.
Ashley Kilgore:
That's great. So I always like to know, and this is kind of a fun question, when did the world of ORMS and analytics sort of enter your atmosphere? Most kids don't grow up saying, "I want to be either a firefighter, or a data scientist." So I'd love to hear when this kind of became something you thought, "Oh, this might be the direction I want to take my professional life," or, "This is what I want to do." Thiago, how about we start with you?
Thiago Serra:
Okay, so my background is in computer science, computer engineering initially, and I saw a path in which I would be a software engineer. Which was fun, but sometimes I would be bored, I wouldn't see so much challenge in the ways I would use a computer to solve problems. And now, I definitely have way more challenge than I would like maybe, but okay, you can either have one or the other. So it was out of boredom that decided to push myself into study more, and eventually that got me closer and closer to operations research as a discipline. My father was doing a master's degree that was more into optimization, and then the PhD was absolutely into operations research itself. And it was interesting, right.
Ashley Kilgore:
It definitely sounds interesting. Carol, how about you?
Carol DeZwarte:
Yeah, I actually also didn't start in operations research. I started in mechanical engineering, and two and a half years into college, I was miserable. And I was ready to leave, and my advisor recommended looking at what else is in the engineering school, because of all the study and I'd already done. And that's actually how I discovered OR, and at the time, since I've been doing this for a couple of years, OR and industrial engineering in most schools was combined. And what I loved about it is that it's applied, far more so, especially on the IE side. And so I swapped majors in my junior year of college, and from there it was, finally instead of getting Ds in classes, I was like getting A's and setting the curve. I'm like, "This is where I belong."
Ashley Kilgore:
"This is the direction I'm supposed to be going."
Carol DeZwarte:
Yeah.
Ashley Kilgore:
I love that. So I'd kind of love to hear from each of you, because you've taken different paths, one in academia, one in industry, was it really an obvious choice for you, what direction you were going to go from the get-go? Or was it something you discovered along the way? Thiago, why don't you go first?
Thiago Serra:
Well, we never know what pertains, or we're going to come across. I did have some interesting opportunities in industry when I was in Brazil, for example. And for a while, I was already being challenged, but I felt that maybe I could broaden my horizons further. And then, the idea of pursuing a PhD seemed interesting for me. Having said that if you spend some time in industry, and you go back for a PhD, maybe you already are up to something. But I know the academic job market is not a perfect mechanism. Sometimes a lot of very talented people don't get a good position, and a lot of schools don't find the people they want. I think it's great that we're in an area where there's so many jobs in industry that nobody has to be trying forever to get a position in academia. But I definitely wanted one, so I hammered a little longer, I said, "Okay, if this doesn't work, fine. I'm going to do something else." But I just like this freedom, pursuing something that might just pay off many years later, and engaging with students. Feeling a little younger, myself.
Ashley Kilgore:
Do students keep you young?
Thiago Serra:
Actually, sometimes they keep me old. Or they remind me I'm old.
Ashley Kilgore:
So Carol, what was that journey like for you?
Carol DeZwarte:
I would say that I wasn't certain, until grad school. So I went into grad school anticipating getting a PhD, so that I could have that option open to me. And I wasn't really sure what I wanted to do, but in the back of my head I knew this thing that I'd learned when I switched majors, that I was good at, applied. So during grad school, my experiences there, including with an internship that I had, and it was the same company for five years straight, so I really got a lot of exposures in intern.
I learned that I learn by example. So when I learn in Greek, I don't fare well, and that was really not a thing that I wanted to have to teach because I really didn't grasp it myself. And that my passion and my abilities both aligned with solving problems, sort of by hook or by crook. I did not buy the theory because I wasn't as good at this as I was at saying, "This, we can apply here." And then learning how and applying. So it became very clear to me in grad school, that I would belong in industry, more so than as a professor.
Ashley Kilgore:
So going back to when you were both making that decision, what was some insight that you wish you knew then, that you know now? Carol, why don't we go with you first?
Carol DeZwarte:
Oh.
Ashley Kilgore:
A nice easy question.
Carol DeZwarte:
When I was making that decision, specifically?
Ashley Kilgore:
Yeah.
Carol DeZwarte:
I sort of wish I would've known what the career paths are, for both. And when I was thinking about teaching, I didn't know until well into my industry career, that many professors also do consulting on the side. And I was in the consulting industry, working with professors, and I didn't realize that there was that sort of applied link.
And similarly in industry, there are many times where I know, I have enough of an idea about a particular form of machine learning I want to use, or a particular type of optimization that I'm not good enough at. And I have colleagues in academia that I can reach out to and say, "Do you have students that we could work with? Or, can you consult with me on this?" And there are links across, that I didn't know existed, that probably would've changed how I thought about it.
Ashley Kilgore:
Okay, that makes sense. Thiago, how about you?
Thiago Serra:
Well, I think one thing that only became clear to me much later, was that even if you want to go to academia, there's lots of different tracks that you can pursue. You have schools that are more focused on research, where you might teach a little less, you're going to have more expectations on what you produce. Among those, in some places like business schools, the places where you publish matter a lot. In other places, your ability to raise money so that you can support your students, like industrial engineering, is way more important.
And at the same time, there is schools where you have a balance between scholarship and teaching, which is something I found out much later, and that's why I'm at Bucknell now, because I enjoy both and I like being evaluated on both merits at the same time. Of course, if there is less pressure in your scholarship, you can afford to work on a problem that may take a little longer to solve. But I had no idea about that. And also, you also have places where if you really like just teaching, there are places where the expectation is solely on teaching.
And sometimes, we just hear opinion of people. If you're in a research university, you hear a lot about jobs like the place you are studying right now, but there are so many other options. And also, there are many ways you could be in industry, and still being doing research. It's much more diverse, than we imagined at first. And even among schools that are in a certain type, the expectations may change a lot. I mean, you can find a way to be yourself, rather than trying to conform to what you think are the expectations of all the universities, and be successful that way.
I think for a while I was really trying to, "How can I look employable to as many universities as possible?" And suddenly I realized I just can't, I can't do this. I can do what I know what I feel passionate about. Some people might like it." Turns out it worked, luckily.
Ashley Kilgore:
Yeah, it did. So I have a couple of other questions that are going to focus on some aspects that are unique to each of your careers. So Thiago, you started out with your bachelor's and your master's in Brazil, and then got a second master's and your PhD here in the US. And obviously, you're working here in the US. I know especially at this meeting we have a lot of international students that come, or early career. What can you share about that experience, that you think might be helpful to people that are going down that same path?
Thiago Serra:
Well, I must say that INFORMS helped me somehow, along this path.
Ashley Kilgore:
That's good to hear.
Thiago Serra:
My first annual meeting was 2012. I was applying for grad school, and luckily a professor invited me to give a talk in his session. And I know it was like an application session, but I thought, "Well, this is my one shot of showing that maybe I can prove a theorem in front of someone who could potentially invite me to the PhD." So I know this is not the right place for that, and I'm going to prove it for, I'm here. I think it worked. But in other ways, I started looking on, we wouldn't use social media as a word I guess, 10 years ago.
But I also did look for, "Okay, why are there people doing operations research?" I came across Michael Trick's blog, Paul Rubin, who is everywhere, contributing to things. And eventually that led me to find out about the INFORMS and Twitter. And I remember, INFORMS had this blog challenge, they would give a topic and you would write about it. This was in 2010. I remember I would write something, link to them, and they would post in their blog. I wasn't even a member, but they were very loosely calling, "Oh, our member Thiago did this," and I'm like, "Okay, I feel very included here."
Of course, paying our membership dollars is a little expensive, and I'm glad INFORMS now has a lower fee for certain countries. I thought it was a big win. But then, some years down the road I felt, "Okay, I'm definitely going to do a PhD, I'm going to this meeting and I'm going to try to meet people there." And even, at that point, I also was volunteering to blog for INFORMS, and I think in one of the grad school applications that popped up, I mean, they followed up on that. "Oh, you already blog for INFORMS?" "Yeah." "How'd that happen?" "They asked for it." You can only get things you ask for, right?
I think in some ways INFORMS has a way whereby which I got introduced to this, I came to this one place in the US, the first time I ever set foot in the US, and suddenly I met a lot of professors and I saw a lot of different things going on, and that was encouraging. And in the first times, you don't really know many people, so it's a little lonely on the sides. But if you see someone who, I mean, if you see me around, just come. Don't be a stranger. I love meeting new people, and I know it's hard when you're coming the first time, but it's a very inclusive place.
Ashley Kilgore:
That's great.
Thiago Serra:
That's not, answers everything, but it's…
Ashley Kilgore:
It does, it was an interesting journey, and I'm glad INFORMS played a big role in that. So Carol, you have an interesting background. You have both government contracting experience, and then private industry experience. So I'd love to have you talk a bit about what are some sort of unique aspects, maybe good or bad from each of those, that would be beneficial for someone that's kind of looking down that path, to know about it that you learned through your own experience?
Carol DeZwarte:
Yeah, absolutely. I actually started my career in private industry, went to government for 15 years as a contractor, and then came back to private industry where I've been for about five years. I think one of the biggest differences is the urgency, in how work gets done, and also the sort of depth of how work gets done. So if I'm on a brand new team, there's this concept of good enough, that's really super important. And being able to do technical work that we implement very quickly, we called it two-way door. You get it out there, if you know that you can pull it back quickly and then move on, with the idea that it's going to be replaced by something else in a year or two.
On the government side, that doesn't exist. There's so many regulations and so many different stakeholders in different pieces of your customer base, that things are much more deliberate. We spent much more time doing deep research on specific topics, and that's actually where I enjoyed research, where I learned to code, where I learned to work with collaborators on supply chain problems that were on a scale that I just couldn't even conceive. And then I was able to take that into private industry, working with places like General Motors or Amazon, as either customers or competitors.
And the differences were pretty significant in how I think about a solution, and how I put it into play. And also my stakeholders were different, and my teammates were different, which is a really strange thing. But the first couple of years in government space, you learn so much because it's a very senior, very knowledgeable population in the technical industry, in government contracting. And in private industry I have found that there's a lot of folks who are earlier in their careers, who have really awesome ideas and need a little bit more guidance. And even as a manager, my experiences were very different, of how do I manage a group of people whose average experience is like 15 years, versus 15 months?
Ashley Kilgore:
Very different, I imagine.
Carol DeZwarte:
Yeah. So I moved out of government after that many years, because I just felt like I wasn't growing anymore. And it's a phenomenal space, but it was also quite intimidating. And then, I feel like I've grown a lot as an analyst and as a manager, being in a different space. But going the other way would've been the same, because you're learning a different set of rules and a different set of stakeholders, and different sort of theoretical and applied bar that we need to meet. And I think it helped me become stronger, as a professional, to do that swap.
Ashley Kilgore:
That's great.
Carol DeZwarte:
Yeah.
Ashley Kilgore:
So, collaboration. Carol, you've touched on this a little bit in an earlier question, but I'd love to hear about any opportunities that you've encountered, whether they've been ones that you've been involved in, where you saw or participated in sort of a collaboration between an academic environment and an industry environment? So Carol, how about you start us off?
Carol DeZwarte:
Yeah, no problem. One particular experience comes to mind, which was when I was working with the Air Force, and with a former employer, and we were working on something that's called readiness based sparing, and in the government, spare parts, and how many of what. And the goal is to make sure that you're increasing the readiness of a unit of war fighters. And we had some professors from Cornell, and students, who had been involved in this for decades. And in fact, some of them had been my professors when I was at Cornell.
And I remember many times where we would sit down with them, and they are teaching the same concepts that we're putting into place, and they're coming to us and talking about what they're learning and their breakthroughs. And our researchers on the industry side were collaborating with them to figure out, what are the improvements we can make in the math? Especially because computing power in the early 2000s was just moving faster than we ever thought. And that connection of not only these professors who had done this consulting on the side for decades, and really helped build that discipline, but also with their students. And hiring their students was incredible, and I think we all gained a lot from it.
And it's also a really good example, we've chatted before about those positions where sometimes it's a middle position where that particular work was very research-y, even though we were doing it in industry, and we were partnering with a university. And that kind of thing happens all the time.
Ashley Kilgore:
How about you, Thiago?
Thiago Serra:
Well I had a great experience working for Mitsubishi Electric during the PhD, and I think that's something I would recommend to any PhD students, to spend some summers working in one company or two, possibly, that creates opportunities for you afterwards. When I was done with my PhD, I wasn't in good shape for job market, academic one. It's rigorous. But Mitsubishi Electric walked me back, we kept working on things we were doing already, and it was fun. And it was one way in which, I mean, they reached out to my advisors because they were interested in what we could offer. And it was a way also apply the things that we were doing in theory. Fairly, it's exactly the compliment of what you said, we were able to bring those tools and decision diagrams for example, seeing them working in transportation problems. It feels good. You see connection between these worlds. And I think it's something that anyone, even if you stay in academia, you should put a foot in industry, spend some time, and get an experience like that.
Carol DeZwarte:
Yeah.
Ashley Kilgore:
So no professional journey is without a few bumps in the road. Any moments of doubt or uncertainty along the way that you'd care to share? Unless your journey's been perfect, in which case…
Carol DeZwarte:
I have two. So I'll go with one, and then we'll swap over.
My first one is being your own salesperson. And I am a painful introvert, and if given the option, I will close my office door, which I know don't exist anymore in open work environments, and I will code all day. And I will believe that the value of my work will be obvious by the quality of my work, and the impact of my work. And that's just not the world.
So for many years I believe that, and I watched colleagues sort of get promotion opportunities that I thought I had deserved, but I was being silent. And I was letting my work speak for itself, and that doesn't always work. And I realized that I needed to advocate for myself, and I needed to have advocates in leadership above me that were my mentors, that could teach me, that could help me…
Ashley Kilgore:
Absolutely.
Carol DeZwarte:
… understand where to put that energy. And I wasn't doing that, and my career suffered for it. I didn't really realize that it is about what you know, and who you know. And that both of those have to exist in balance, and they just didn't in my life. And I probably floundered for five or six years before I had a really good mentor, who made some comments to me and I'm like, "Oh, yeah, I haven't been doing that." Which is really hard, as an introvert.
Ashley Kilgore:
And what a testament to the power of mentorship, that it can be just, honestly life changing.
Carol DeZwarte:
It really can. I still remember the day that conversation happened. I was sitting in my car in the parking lot of a department store, because I hadn't made it back to my house in time from the Pentagon, because of really bad traffic. And it just hit me, I was like, "Oh my God, I haven't been doing that at all." So yeah, very powerful mentoring.
Thiago Serra:
Well I think one thing that, there were many research projects that, I should never have pushed them so long. Accepting that certain things are just not working. It's very important. I mean, you may push a little longer, but you have to accept, not every idea is going to be great. And sometimes I look back, in a year during the PhD, that was for so many times. You look back at the year of your attempts, and you wonder, "If I had finished two projects, good projects, I would be in a much better position now, than all these different and very ambitious things I tried." So sometimes just knowing where to stop, and how many things you take, can make a big difference.
One reason why, when I finished my PhD, I wasn't ready for the academic job market, was that. I think it was an important, it was a learning part of my PhD that I don't regret, but it could have been less painful.
Ashley Kilgore:
At the time, maybe.
Thiago Serra:
Yeah.
Carol DeZwarte:
I have one more that I would love to share.
Ashley Kilgore:
Please do.
Carol DeZwarte:
And I'm actually going to pull INFORMS in on this one. It's sort of related to the conversation of being your own advocate, but I didn't network, and that also ended up being quite detrimental to my progress. And I would say the last three or four jobs I've gotten have all been through people that I knew. And as you become a senior leader, if that's what you want, regardless of academia, industry, in between, people have to know who you are and have to know what you bring to the table. And a piece of paper, or seven pieces of paper or anything in between, is not going to say that.
And that became one of the ways that INFORMS really changed my career, and the people that I know, and being involved, and sitting, standing in front of people I don't know, and presenting my work, and getting feedback. And meeting people that are passionate about the same thing. And then, not only meeting those people, but developing those relationships. And that was so hard for me, because I would rather be at home reading a book on a Friday night, but really I need to be at an INFORMS gathering on a Friday night, reinforcing those relationships.
And when I started to build those relationships for fun, and because these people were amazing, and not because I need a job today, or I'm miserable and I need a job tomorrow. All of a sudden, not only was it more fun because I could come to events like this and be super energized, but then when I did have a colleague who was leaving and needing something, or when I needed something, and all of a sudden I've got 30 people I can call. And that makes so much of a difference.
Ashley Kilgore:
That's terrific.
Carol DeZwarte:
And I really wish I would've gotten out of my shell earlier in my career, to do that. And the people I know, who are 15 years younger than me who have gotten out of their shell, have been wildly more successful than I was at that point. So that, I feel like is huge, and it's something that INFORMS offers.
Ashley Kilgore:
Oh, that's wonderful.
Thiago Serra:
I would like to add one more thing that I remembered, now.
Ashley Kilgore:
You, one more thing?
Thiago Serra:
Yes.
Ashley Kilgore:
One more speed bump?
Thiago Serra:
It's just, I had this, when I was looking for postdocs, I spent the day with a professor I admire very much. And it was a great opportunity, we chatted, we got lunch together. And at some point I asked him, "What's the one thing that makes or breaks someone in academia?" Because I had no idea what the answer would be, what he would say, but he said, "It's dealing with rejection, because in academia this happens all the time. Papers are going to be rejected, proposals are going to be rejected. Someone's going to say, 'Your work is bad.' Lots of doors are going to be shut. And if you don't believe that you can actually, that what you do is worth something, and you don't keep trying, you're out. But maybe you could have succeeded like anyone else."
My advisor, he shared this story once in class, that when he was an undergrad he told his academic advisor that he wanted to do a PhD and he said, "Oh, that's awesome. So we just had a person who did an amazing PhD, a very short PhD thesis, and I'm going to share with you. If you can do anything similar to that, you will do great." And he read and he was like, "Oh my God, I will never be this good." And he felt very depressed. I'm glad he didn't give up on academia. So it turns out that the PhD thesis that was given to him was John Nash's thesis. By the time he was just like, he had another person who just defended a PhD. But I mean it's good that he didn't give up on that, because of one example, because he was definitely not liar.
Ashley Kilgore:
Wow. So speaking of INFORMS, and Carol, you've sort of already answered this question but if there's anything else you want to share, please do. What role has informed played on your prospective professional journeys? Thiago?
Thiago Serra:
So one thing, I think our president elect, Laura, she's president elect right now, right?
Ashley Kilgore:
Yes. Yep.
Thiago Serra:
She has great advice on anything, but she has this thing about always show up, which goes back to what Carol said before, about you have to be in places, people have to see you, otherwise things don't happen. And I think INFORMS, you do have a structure that allows you to come back over and over again, and have entirely different experiences in the meetings. You have the Doctor Colloquium, for example, which I heard about it. I was like, "Wow," I want you to do it next year. And I came back for that. And then, wow, the colloquium itself was amazing. And you have these events where you get to know people from the other colloquium, I want to do the colloquium next year. It doesn't matter what. Doctoral students, you can't do twice. New faculty, I'm not faculty. Then you want to teach in colloquium. And that's a small one, but it's super awesome. You learn some very interesting techniques, show up to teach interesting lectures.
And I went to that one, I had a great time there, engaged with people in the other colloquium, and you can come back to that one as many times as you want. So I went there four times, in total. But when I came my second year, the person organizing for the second year in a row told me, "Hey, it looks like you like teaching." I said, "Yes, I do." "So next year we have a position, but now, and I think you should apply."
Ashley Kilgore:
Oh, wow. That's terrific.
Thiago Serra:
Okay, that kind of impact, right? Yeah. That's where I am today.
Ashley Kilgore:
That's great.
Thiago Serra:
And there are many, many other ways you meet people here, that you end up collaborating, and doing things together. So it's really, these days that we spend here, they're very intense. Sometimes we barely walk into a technical session, because we are busy meeting people. And that has a difference, right?
Carol DeZwarte:
Yeah, it does.
Thiago Serra:
Not to say, shouldn't that go to the technical sessions.
Ashley Kilgore:
Do both.
Thiago Serra:
Yeah.
Carol DeZwarte:
Absolutely do both. Yeah, that's an amazing point, because two things happened for me in Anaheim, which was our first in person, it was virtual after the pandemic, or combined virtual and in person.
One was that I ran into an old friend, who's a ridiculously good optimization expert, and has had some amazing opportunities. And he and I accidentally sat down for two hours, and had a conversation about belonging and authenticity within the data and technical world, in the industries that he and I are familiar with. And it was phenomenal, and it was just one of those amazing opportunities. And we might've skipped a couple of sessions, because we accidentally spent two hours talking when we meant to spend 20 minutes, and it was worth every minute.
And at the same time, something else happened in Anaheim, which was I came down the stairs… Or came down out of the elevator, and in the lobby on the first day, within 30 seconds, ran into several people that I know. And I was like, "Oh, my God." And these people get hugs from me, even though I'm not a hugger. And of course all the gentlemen are in their suits, and I don't care, I'm hugging you. And it was like, "Oh my God, these are my people." Especially in a situation where one might be struggling to belong at work, or really having self-doubt with what we're doing, like, "These are my people, and they're not judging whether or not I did a good job on that paper last week, or whether or not I made an analysis mistake last week. They're really wanting to collaborate and wanting to know about me and my journey, and work together and make INFORMS better."
And that energy, only possible through knowing people, and becoming more involved in meeting more people. It's made such a difference for me. I went home from Anaheim and I told my husband, "I am not going to skip these meetings anymore. I'm just done, skipping these conferences." Because I'd always be worried about, "Oh, my company's not going to pay for it," and that's definitely a thing, especially for students. And I'm fortunate to be at a point in my career where I can do that and I was like, "This makes my life better, to be with my people," and by my people, we're all just math nerds. And it's so amazing here, and it's such an inclusive community, because we've all probably felt like not belonging at some point. So it's huge, to have that community, and then be able to take that energy back and bring others into the community.
Ashley Kilgore:
Absolutely. So I think we still have some time, we have a few, as I mentioned earlier, a few questions submitted by attendees. There's a couple here from someone who is switching from academia to industry. They've been a professor for almost 20 years, and they want to know, "How do I even write a resume?"
Carol DeZwarte:
Yeah, that's…
Ashley Kilgore:
That's a good question.
Carol DeZwarte:
That's an awesome question. And I can't even imagine being in that situation. But I have set up, can say, I've read a lot of resumes from professors who are trying to switch industries. So from my perspective as a hiring manager in OR and DS, what we're looking for is not one's technical background. Now sometimes we do, because it's like, "Oh, you clearly have the chops," so we want to know, is your research in the space that I'm looking for?
But usually I'm looking for a balance. And we're trying to say… And that's what I want to see on the resume. Not only are you crack at your technical work, and here's all your publications, but can you communicate to me on a piece of paper that you can lead? And that you can teach, and that you know how to collaborate with stakeholders. And even in interviews, we're asking questions like, "Tell me about a time when you had some stakeholders who were a bit of a problem, and how did you handle it?"
And you could probably rattle off 10 stakeholders, but sometimes we have professors who are like, "Oh, well, I don't really have stakeholders." I'm like, "Oh yeah, you do. You just don't call them stakeholders." And that's what we're looking for in a resume is, how can you take this phenomenal technical skillset and teaching ability, and fit it into a place where your teaching is mentoring, and working with juniors. Very similar, but not in the classroom. And you're dealing with problems.
Writing the resume is really more about making sure that I think that you fit the needs for my job. So read the job description, understand. Publications matter, but not as much as you think. There are some positions, and I think Thiago might be more familiar with them, that are sort of hybrid. Where research really is the thing. I know Amazon sometimes hires for some, we have sometimes hired for some at my companies. Where we do want a PhD with ridiculously deep skills, and then your publications make more of a difference. And the technical skills.
Ashley Kilgore:
That's actually one of the questions, "Do I really need to leave out all of my publications, and do I need to keep it to two pages?"
Carol DeZwarte:
It depends on the position because I mean, do you want speak to industry positions that are still…
Thiago Serra:
I defer to you.
Carol DeZwarte:
Okay. All right. Well, I will give Thiago credit. He and I were chatting it up earlier, that National Labs is a great example. That is government, it is industry, and it is still research. And a lot of those positions really combine the needs for both. And there are companies that need deep technical experts to solve very specific problems. I have been involved in some work where we're trying to do batching for transportation, and they're really hard optimization problems because they're really big, and you have to do them really well. And then we are looking for people who have that skillset.
But those research positions exist, and when you read a job description, you'll know. Not only are they asking for a PhD and 10 years of experience, but you can tell by the types of work that the company does. And I would recommend that this person does exactly what you and I do, which is, "I want that job. What does it look like they need for that job? Do I know anybody who might be able to get me to the hiring manager, or to the recruiter?" And that's where these INFORMS connections come in.
Ashley Kilgore:
Absolutely.
Carol DeZwarte:
Who do I know that I might be able to say, "Hey Thiago, I saw that you know this Ashley person, and I think that she might be involved in this position at INFORMS that I'm really interested in, would you mind giving an introduction?" I've received and given those types of introductions.
Ashley Kilgore:
That's terrific. That's great advice. Yeah. Tremendous. Okay, so we have a couple more questions. How do you identify and build relationships with stakeholders? Thiago?
Thiago Serra:
I call them collaborators, or students.
Ashley Kilgore:
Stakeholders or collaborators? There we go. Or students.
Thiago Serra:
We can call them many names. I do think a lot about collaboration, conferences like this one, sometimes some smaller ones, are great places like exchange some ideas. You present something, a person that bounces back, someone reacts to what you just presented, follow up with you after a session. I try to keep in touch with people I meet in these conferences that something sparks, you can feel. Even if right now we're not going to write a paper together… It's about paper, right?
Ashley Kilgore:
Yeah.
Thiago Serra:
If we're not, we may not write a paper now, but I want to keep telling you what I'm doing, and I want to keep hearing what you're doing. And I think a big chunk of what I do is research today, was because of a colleague of my host when I was doing internship, we would go to for lunch together. And I would talk a lot with this guy who was in a very different department at the research lab, and we kept communicating, I kept sharing what I was doing. And turns out, we collaborated on things that had nothing to do with that later.
Ashley Kilgore:
Nice.
Thiago Serra:
And it just opened so many doors. It's hard to say how you're going to find those collaborations. Who is going to be be your buddies, where you find these buddies. You just have to keep an eye. I don't know, it's hard to say, but just give a shot. I mean, if you see someone who has a potential and you know you could work well together, you may not be now. But you want to keep an eye on that person, keep that person in touch, and let the person know what you're doing.
Ashley Kilgore:
Okay. That's a great advice. We're going to go with collaborators. How about you?
Carol DeZwarte:
Yeah, well I think about it from two different angles, and one is very similar to what Thiago is saying, which is kind of keep an open mind. And what that brought to mind was, I once called up a fellow INFORMS member, Harrison Tram, and I was like, "Hey, I'm dealing with this thing, and I need to take the way that you do Cayman's clustering, and I need to change the math. What do you think about that? Is that crazy, or do you think it might work?" And out of that came an RV's blog that he and I did together, and it was just, "Hey, we want to do this, but the math isn't designed to do that. So here's this workaround that we built." And even simple things like that, you can end up having fun partnering with somebody that you don't usually get to partner with.
In the workplace, I think about it very differently, and this is actually something that I've been complaining about a lot lately. Is that, in school, or at least when I went to school, and I certainly hope this has changed, I would love to be wrong about this. We don't teach people who are in highly technical disciplines how to communicate. And the thing that I struggle with the most, is that each different stakeholder with a different background, I need to learn how to speak their language and meet them where they are. And we aren't taught how to do that. So I might have a data scientist who's out of school for a couple of years, and has proven themself as being technically amazing, and does really good analysis. And they can write a five-page paper on the results of their analysis, but I need you to build slides for me, to be able to take to my leadership. And that's different.
Or I might need you to build a slide that's going to go in a quarterly report that's going to go to the C-suite. And those are different types of communication, and they're different levels. I'm not going to, you can't say K means clustering, when you're talking to the C-suite. You need to make it so that you're speaking at their level, about what the impact is to the business, and how we're benefiting and how we're making things more efficient. And my boss might care about something in between. And I feel like, from a stakeholder perspective, that's where we usually get it wrong in our discipline. Is we assume that we can use our words. And if I say the word optimization, that doesn't mean the same thing to everyone. And I have to be really careful about that. And I have to make sure that I'm talking to a product manager, that we're talking on the levels of the things that that person is responsible for, and the value I can bring to them and the team can bring to them.
And that's not something I was taught. And so when I have ridiculously talented folks on my team, who struggle to communicate at the level that they're asked to communicate, they come across as not being a team player, or not being able to communicate well. And they can, they just don't know that they need to adjust that. And that's something that I feel like people learn the hard way, because we aren't teaching it.
So when I think stakeholder, and how to build those relationships, it's all about being open-minded, communicating at the right level, and understanding what we're each trying to accomplish.
Ashley Kilgore:
Yeah, that's terrific advice.
Thiago Serra:
I want to pick on that. This is advice I heard from an ex history, personal experience, I heard from other people. Let's say you're in operations research, you do this very mathematical scholarship, and then you get interviewed by an industry engineering department. And this is something that happens to a lot of people. And you walk in there and you think, "Well, this is industry engineering department, everybody here speaks operations research." Maybe not. I mean, they're going to look at you, and if you're not relatable, okay, yeah. My colleagues are bringing another mathematician like them, not everyone in industry engineering is doing that. And if you don't come across as someone approachable, and this can also happen, let's say in a business school. When you're giving a talk, they're trying to understand how well you're going to communicate with students, how much you're communicating with your peers, how much the university can brag about you on the media.
I mean, can your dean tell, "This is what this person does, and we are proud of that." If my dean, who has a background in finance not analytics, cannot explain well what I do, she's not going to sell me to the media relationships department. That may close some doors. And also, that may shut you from a job, if you're not open. You do have to show that you have technical promise, in your talk. But the first five minutes have to be approachable, and it speaks to the same point.
Carol DeZwarte:
Absolutely.
Thiago Serra:
You have to communicate with more than just your informed peers, here.
Carol DeZwarte:
Absolutely. That's a great point.
Ashley Kilgore:
So as much as I hate to say it, we're about to wrap up, I'd love to ask you each for one small little bit of wisdom that people can walk away from this with. So Carol, what would be the final thing you would share?
Carol DeZwarte:
I think it's that you're sort of never grown up, right? My uncle is 75 years old and he still says, "I'm not sure what I want to do when I grow up." And I was in government for 15 years, and it was really hard to switch industries, but I wanted to because I wanted to keep learning, and I didn't think I was done growing. And it was scary to try to switch industries, just even from government to private industry. I can't even imagine going from academia to government or private industry. And it was absolutely worth it.
And there were some large bumps in the road, like brick walls that I broke my nose on, level bumps. And it was still worth it. And so it's that we're going to hit bumps, and you don't have to stick with a decision. So when you're in college, and you're thinking about switching majors, you feel like it's a lifetime decision. It's not. And I think that's the biggest thing that I wish I would have had in the back of my head, is that it's never too late to change your mind. It's never too late…
Ashley Kilgore:
That's great.
Carol DeZwarte:
… to change careers, or to go back to school, or to change industries, if that's what you want to do. And I felt stuck for a long time, because I didn't really think about that, as possible.
Ashley Kilgore:
Yeah.
Thiago Serra:
Caroline, I like so much what you said. I just want to spin it in another way, but it's basically the same message. Which is, and I think a little bit about the audience that we have, a lot of PhD students for example. It's one thing when it's an external pressure saying what you should be, right? And it's something else when it's internal. I mean, you have a passion, and maybe the word is same to you, "You shouldn't do this. You should be something else, someone else." And maybe the pressure of have to publish, you have to meet these marks, to get a PhD. At some point you might start wondering, "Do I really want to get for that?"
But if it's something you really believe, you just don't want to lose yourself. You want to still be, you want to do the things that give you pleasure, because this is going to be your life. But if you believe in them… Just keep pursuing the things that make you happy, because at the end of the day, if you're not having satisfaction in the job that you have, that's not the place for you. Of course, it might be depending on what you want to do as a living, you may have some struggles along the way, but it's really like, where is your drive? Where is personally what you want to be? It's not about what other people are telling you, because, especially the thing about rejection, right?
Carol DeZwarte:
Oh, yeah.
Thiago Serra:
We are going to hear lots of confusing messages along the way, but if you made all the way to where you are right now, and you're watching this, probably you have done a lot already. I know this is not going to be broadcast on the entire country, it's a very specific, the market [inaudible 00:47:32]-
Ashley Kilgore:
Oh, I forgot to tell you, that's what we're going to do. I'm just kidding.
Thiago Serra:
Oh, yeah, nationwide. Okay. But there's a specific demography here, a lot of people who are very, very smart. Maybe there are crushing experiences pulling you in a different direction. But believe in yourself. I mean, let your inner, what you believe you're good at, guide you. Not what people outside say to you that you should be doing.
Carol DeZwarte:
And I'll tag on to that. When I've doubted myself, which is frequently because I have a lot of self-doubt, my spouse will say like, "You're amazing, and it's okay, and you'll find something else." And I'm like, "Well, you don't know what I do. So I love you, and I know that, but I feel like you have to say that because you're my spouse." But it's my INFORMS friends who I'm like, when they say, "No, you're good, you'll be fine." I'm like, "They know what I do, and they're in my world," and so that means so much from them. When I'm having that self-doubt, I'm trying to decide do I want to change careers, jobs, fill in the blank. Then it's the people here, because we share the same background so we can talk about where we're struggling, and what we want to do. Yeah, huge. I'm so glad you brought that up.
Ashley Kilgore:
Well, that's amazing. Thank you both so much. I really can't thank you enough. This has been super informative. Thank you for sharing your personal stories, and I honestly can't wait to share this with our listeners. So I hope you enjoy the rest of the meeting and yeah, thanks.
Carol DeZwarte:
Thanks, Ashley.
Thiago Serra:
Thank you.
Ashley Kilgore:
Want to learn more? Visit resoundinglyhuman.com for additional information on this week's episode and guest. The podcast is also available for download or streaming from Apple Podcasts, Google Play, Stitcher, and Spotify. Wherever you listen, if you enjoy Resoundingly Human, please be sure to leave a review to help spread the word about the podcast. Until next time, I'm Ashley Kilgore, and this is Resoundingly Human.
Want to learn more? Check out the additional resources and links listed below for more information about what was discussed in the episode.
Recommended podcast: CANA Connection