Published: October 31, 2022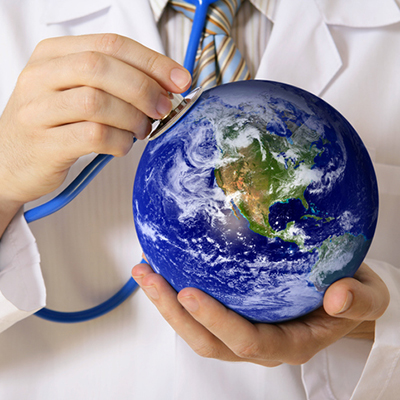 Special series featuring in-person interviews from #INFORMS2022 in Indianapolis! I was delighted to be joined in person in Indianapolis at the 2022 INFORMS Annual Meeting by Prashant Yadav with INSEAD. He was a keynote presenter at this year's Annual Meeting, "Global Health Security and Healthcare Supply Chains: Perspectives and Opportunities for Operations Research," and he kindly took some time out of his busy meeting schedule to sit down with me and explore the topic of his presentation.
Adjuvants are things we add to vaccines to enhance their immune response properties. We get adjuvants that come from Chile, because some of them are still naturally occurring substances that only occur in the soapbark tree which at this point is native only to Chile. So that's one example, the other is some other adjuvants come from shark liver oil, and shark liver oil as you would image is only in certain parts of the world. So I think it has reminded us that supply chains for health products, whether we only use it for ourselves or anywhere else in the world, are intrinsically very global.
Interviewed this episode: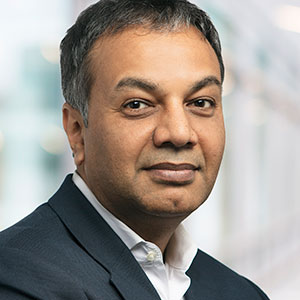 Prashant Yadav
INSEAD
Prashant Yadav is a globally recognized scholar in the area of healthcare supply chains. He is an Affiliate Professor at INSEAD, Senior Fellow at the Center for Global Development, and Lecturer at Harvard Medical School. He is the author of many peer-reviewed scientific publications and his work has also been featured in prominent print and broadcast media such as the BBC, New York Times, CNN, Financial Times, WSJ and NPR. In addition to his roles in academia and think-tank, Prashant serves on the boards of many health and development focused companies. In his previous roles Prashant has worked as Strategy Leader-Supply Chain at the Bill & Melinda Gates Foundation; Vice President of Healthcare at the William Davidson Institute and Faculty at the Ross School of Business at the University of Michigan; Professor of Supply Chain Management at the MIT-Zaragoza International Logistics Program and Research Affiliate at the MIT Center for Transportation and Logistics. Yadav has been asked for expert testimony on medicine supply chains in the US Congress and Parliaments/Legislative bodies of many countries He works closely with and advises many country governments, and philanthropic organizations on healthcare supply chain strategy. Yadav trained as a Chemical Engineer and obtained his PhD in Management Science & Operations Research.
Related Episodes
I am so delighted to be joined here in person at the 2022 INFORMS annual meeting with keynote speaker Prashant Yadav with INSEAD. He is a keynote presenter this year's annual meeting, global health security and healthcare supply chains perspectives and opportunities for operations research, and you have highly taken some time out of your busy meeting schedule to sit and meet with me. So, thank you so much.
Prashant Yadav:
Thank you, Ashley. Thanks for having me.
Ashley Kilgore:
So, Prashant, to start, can you tell us a bit about yourself and your background?
Prashant Yadav:
Yeah, so I trained as a chemical engineer. I worked in biopharmaceutical manufacturing for a little bit in process industries. Then, I brought my degrees in operations research and management science. I have gone back and forth between academia and practice and policy. Before my current roles, I worked at the Bill & Melinda Gates Foundation. I ran the supply chain strategy there. So, I'm an unusual academic in that sense.
Ashley Kilgore:
Definitely. That's exciting. So, could you tell us what are some examples of global health supply chains, and how do these relate to global health security?
Prashant Yadav:
Yes. Interesting you asked that, Ashley. I think when we talk about global health supply chains today, I think sometimes we imply things which are very narrow. Sometimes we imply things which are very broad. So, the way I think about it is that when someone takes a healthcare product of medicine, a pill or any other health product, and the benefit accrues almost entirely to the individual patient, that's what we call as healthcare supply chains more specifically, right? But when the benefit of taking the medicine or vaccine accrues to a larger population, which means, me taking a medicine is protecting other people because it brings down my viral load and I don't transmit the virus onward, like those things.
The supply chains that get such products to people around the world is what we frame and call as global health supply chains, which means there is an element of what economists would call as an externality from the consumption of every single unit or dose of medicine or preventive health technology.
They're connected to global health security because in a way we know that if someone far away from us in a different country does not take the right kind of medicine, that can create things such as antimicrobial resistance, which means not only will the new medicines not work for them, but they won't work for us. So, that's one example of global health security. The second is, we've seen this in the last two and a half years, viral variants or new pathogens emerge somewhere in the world. They cross borders quickly, so that is another element where for us to be secure within our national borders, we have to think about health as a global system boundary, and that's that's where global health supply chains and global health security start in the sector.
Ashley Kilgore:
Okay. So, speaking of the last two and a half years or so, what has the pandemic shown us about the vulnerability of our healthcare supply chains?
Prashant Yadav:
A lot. So, I think many concepts and ideas, which to a lot of people appeared this very low probability event that we will have a big pandemic, and all of the models that colleagues in operations research have developed in terms of how will we very quickly deploy medical countermeasures? How will we create little sites to dispense medicines and vaccines into communities? They all sounded somewhat theoretical to people because we hadn't had a large scale pandemic of this nature.
So, first is the value of operations research models for deployment of medical countermeasures became much more vivid. Two policy makers, two common citizens, and of course two people within our operations research community who at times weren't recognizing or internalizing their value. So, that's one big takeaway for me.
In terms of global health supply chains, I think we saw one is the interconnectedness part of healthcare supply chains around the world. So, not even global healthcare, the fact that the vaccines that we manufacture require so many components that come from different parts of the world.
My favorite example is the adjuvants. Adjuvants are things that we add to vaccines to enhance their immune response properties. So, we get adjuvants that come from Chile because some of them are still naturally occurring substances that only occur in the soap bark tree, which at this point is native only to Chile.
Ashley Kilgore:
Oh, wow.
Prashant Yadav:
So, that's one example. The other is some other adjuvants come from shark liver oil. And shark liver oil, as you would imagine, it's only in certain parts of the world. So, I think it has reminded us that supply chains for health products, whether we want to use it for ourselves or anywhere else in the world, are intrinsically very global. So, that's one part.
The second part is that global health supply chains and global health security, which means the fact that the Omicron variant was first sequenced by a group in South Africa, and that's how we learned about a new variant that was circulating in our population in fact, probably sooner than when they sequenced it.
So, that is a second realization, which is the interconnectedness, not just in the supply chain to get products to patients, but also in learning about where pathogens are circulating how, who's sequencing them. All of that has become very, very vivid to people now.
Ashley Kilgore:
It's fascinating and just how vulnerable it all is. Just so many possibilities there. So, what are some of the major challenges and threats that are impacting global health security currently?
Prashant Yadav:
So, the frequency and severity of pandemics is increasing. Most of the modeling that has been done shows us that on both fronts, on the frequency of new pathogens that have pandemic potential, and the severity of such pathogens is on the up, which means we need to be better prepared. We need to anticipate that such things will happen more frequently. What does that require? Then that requires us to be ready with the ability to manufacture and distribute medical countermeasures. And by medical countermeasures, I'm referring to vaccines, monoclonal antibodies, diagnostics, all of the things that are required for an effective response to either an epidemic or a pandemic or even a localized outbreak.
So, to have the capacity to do large scale manufacturing and distribution of medical countermeasures, either we keep a lot of capacity ready to go in a way underutilized, so that in the event that we needed, we can switch on those plants and start making or switch on those distribution lines and start distributing. But that comes at a high expense to society keeping production lines and distribution lines idle or underutilized.
So, second way to think about it is to make them a lot more flexible, so that while we are not using them to make pandemic vaccines, we can use the same production lines to make other kinds of biological products, whether it's vaccines or perhaps even non-vaccine products. Same things as distribution. And I think that's where interesting modeling and operations research tools can go in to say how do we balance? On one side we can say we want to keep some surplus capacity. We want to think of it as an option. We want to apply the models of option pricing to say what premium is society willing to pay for an option to switch on large scale capacity almost instantaneously when we need it? And that option mentality will then allow us to keep such capacity running or keep it warm and ready.
The second part would be to make it as flexible as possible and to make the investments both in terms of developing new manufacturing technology, but also in configuring the plant in the right way, so that we have the best degree of flexibility that we can switch from one product to the other.
Ashley Kilgore:
Oh, my gosh. So, for you, what do you think are in addressing these challenges, some of the biggest milestones in recent history?
Prashant Yadav:
So, when we think about global health supply chains, global health security epidemic and pandemic response, I think one thing that comes back at us time and again is, if you don't have fast money to deploy an effective response, then all of the work that you do in figuring out what is the right intervention, which drug to use, how to do ring vaccination versus community vaccination.
We build excellent models to address these issues, but those interventions can only start when money is available for them. And typically, this is a cycle we see every time that the money becomes available when the virus in its exponential up curve is already reaching that point of going extremely high and that's when money becomes available. So, one thing which has been addressed somewhat effectively now is that the money that is needed to mount a good response globally and also nationally.
Using clever instruments, one idea was the World Bank had created the pandemic emergency financing facility, which uses parametric insurance, which means the moment you hit a threshold of the number of cases, as preset contracted amount suddenly gets released from reserves that are kept.
Now there are challenges with how do you set the threshold, how do you set it too low, too high, how much money and all of that. But at least the start of that has given us the momentum to say we will create ways to get fast money. So, that to me is a milestone where we've made significant progress.
The second thing is that if you look at the number of EPI models to track disease transmission that have been developed in the last two years, that has enhanced our collective repository of disease transmission models. Some are great, some have some frightened, not so great assumptions. But if you combine all of that, we have a repository which if we do collate it and curate it right, can make the task of decision-making much faster because we have characterized different types of pathogens, different types of interventions, so that collective body of knowledge is another milestone, which I think I remained quite excited about.
Ashley Kilgore:
Oh, that's wonderful. So, as we're talking about milestones, where is this all going? What direction are we headed? What is the next biggest challenge to be overcome in the next biggest milestone to be attained?
Prashant Yadav:
So, once again, two things. I think one is that we need more effective realization in the population. I'm not talking about policy makers or researchers, but in the population at large, that altruism and self-interest are both pointing in the same direction when it comes to the use of allocating scare supplies of medical countermeasures, whether it's vaccines or therapeutic products or antivirals.
Proportionally and equally to the world, we ourselves benefit if we allocate the next marginal dose of a booster after we are all doubly boosted to a country where the vaccination rates are lower. And that is not an argument only about altruism. We all good about in our moral philosophy of saying, "Yes, we need to help people in other countries who are not able to access medical counter measures quickly." But it's also in our self-interest because that's how we'll avoid new variants coming in.
That message has to be internalized by everyone in the population because only then does the politician or the policy maker realize, "Oh, doing this is acceptable to my constituents. Otherwise, we will not see good and effective policy on these issues. So, that's the first part.
The second part to me is once again, we have technology to make, for example, Messenger RNA vaccines very quickly now. You almost saying we have a sequence on one side, you put it through the system, and comes out the vaccine, right? I'm exaggerating a little bit, but more or less technology's getting us there. But we're still not using that technology as effectively because the time we take to decide which variants and what strain composition will we use for the next variant adapted vaccine, that decision making still occurs through a process that takes many months. So, we're losing the value of very fast technology because we can decide quickly enough, and we have to somehow synchronize and bring them to work in cadence, and the speed for both of them has to be somewhat coordinated.
Ashley Kilgore:
Absolutely. Prashant, thank you so much for taking the time to speak with me, and I hope you have a fantastic rest of your annual meeting. Thank you.
Prashant Yadav:
Thank you, Ashley. Pleasure.
Ashley Kilgore:
Want to learn more? Visit resoundinglyhuman.com for additional information on this week's episode and guest. The podcast is also available for download or streaming from Apple Podcasts, Google Play, Stitcher, and Spotify.
Wherever you listen, if you enjoy Resoundingly Human, please be sure to leave a review to help spread the word about the podcast.
Until next time, I'm Ashley Kilgore, and this is Resoundingly Human.