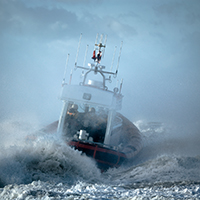 The U.S. Coast Guard is the oldest continuously operating naval service of the United States and has deployed to support and fight in every major U.S. war since 1790. In this episode, we explore the role analytics plays in supporting the Coast Guard as it achieves its many missions and learn how the U.S. Coast Guard Academy is preparing the next generation of those serving in its ranks to employ analytics in new and exciting ways. Joining me for this episode are Commander Matthew Williams, head of the U.S. Coast Guard Academy's Department of Mathematics; Ian Frommer, professor in the mathematics department; and first class cadets Elise Birkhaeuser and Clayton Forfinski, both majoring in operations research and data analytics at the Academy.
It's completely opened up my perspective, I can't really imagine a life without having taken some of these courses and some of these aspirations I have now in it. The Coast Guard just has so many opportunities in data analytics and so many things that are within our realm right now to try to improve, let alone going to grad school later on and tackling that. But yeah, it's exciting!
Interviewed this episode: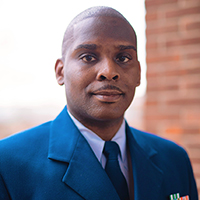 Commander Matthew Williams
U.S. Coast Guard
CDR Matthew Williams is the Head of the Mathematics Department at the United States Coast Guard Academy. He graduated from the U.S. Coast Guard Academy in 2007 with a B.S in Operations Research and Computer Analysis. After serving two tours of duty at sea, he earned a Master of Science degree in Computer Science specializing in Computational Operations Research at the College of William and Mary and a Ph.D in Industrial Engineering at Northeastern University. He also holds a credential as a Certified Analytics Professional (CAP ©). He joined the faculty at the U.S. Coast Guard Academy in 2013, and became a member of its Permanent Commissioned Teaching Staff in 2016.
Throughout his time at the Academy, CDR Williams has served in a number of roles, including  faculty senator, member of the Superintendent's Equity Advisory Council, Coastal Sailing Training Program (CSTP) Officer in Charge and assistant coach for the Men's Tennis Team. He has also served of the Board of Directors for the U.S. Coast Guard Academy Alumni Association and currently serves on the Board of Directors for the Child and Family Agency of Southeast CT.
In his spare time, CDR Williams enjoys playing basketball and tennis and composing music. He lives in Waterford CT with his with Zakkyya and children Nasir and Nuri.
Related Episodes
Want to learn more? Check out the additional resources and links listed below for more information about what was discussed in the episode.